You are here :
Activities
Everybody knows what canoeing is, however ...
Buena Vista Rafting can offer you something slightly different: Canoe-rafting or Kayak-rafting, which involves inflatable boats (more adapted to the river) and seat 1-2 people.
You'll be equipped with a paddle, helmet, lifejacket, special wetsuit and will be accompanied by a professional instructor (a Kayak specialist) at all times, who will teach you everything you'll need to know about controlling your boat to ensure a 'smooth sailing' trip.
These boats, which can be quickly directed down-stream autonomously, are great for enjoying those moments of pure adrenaline down rapids, and the calmer sections of the descent: a perfect way to discover the Verdon valley. You will need to wear lace-up shoes (trainers) for this activity.
Provided that they are always accompanied by an adult, this activity can de done with children (from 12 years old).
We offer two different trips for this activity:
Our canoeing formulas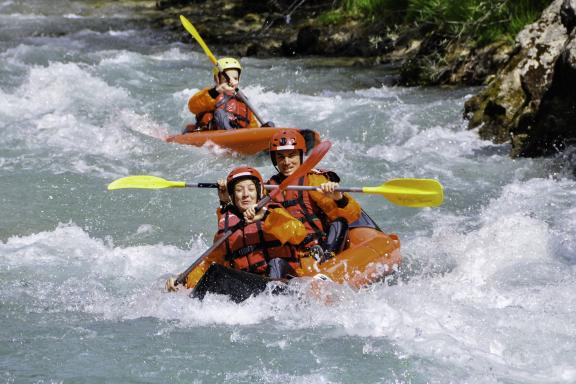 The half-day-trip begins in Castellane and ends on the small beach of the Pont de Soleil. Or of the beach of Chasteuil. A pretty trip last ...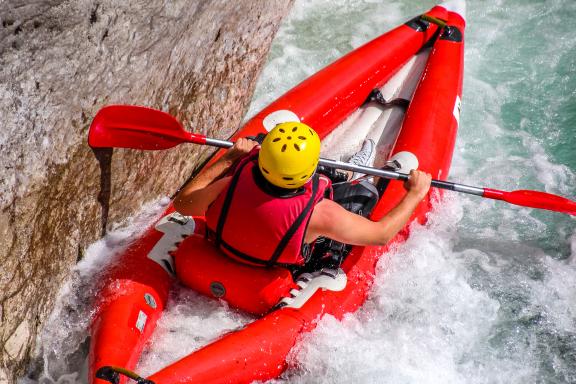 25km of navigation between Castellane and the entrance of the Grand Canyon, alternating between fast rapids and quieter sections that allow y ...
Comparative -
Canoeing and kayak on the Verdon
Location -
Canoeing and kayak on the Verdon
You can use the map below to calculate your route. Do not forget to increase Google's estimated time by about 20%, which corresponds to the lost time on our small mountain roads.
Veuillez patienter pendant le chargement de la carte...