You are here :
Activities
A whole day of rafting is the perfect way to completely disconnect. You will go down through a stunning valley, have a laugh with your guide and the others in the raft, scream and paddle through the rapids!
From Castellane to Point Sublime: 23km of navigation with plenty of time to jump and swim in the rapids. Enjoy the sun, a picnic lunch by the river and hanging out together.
Vidéo Rafting :
Rafting formula Whole-day-trip
Description Rafting :
Rafting formula Whole-day-trip
Typical schedule for the whole-day RAFTING trip on the Verdon:
10am: Meeting point at our base camp in Castellane
Meet the team, pick up your equipment and get briefed. Then a 5-minute minibus ride will take you to the starting point by the river.
10.30am: Let the adventure begin! Each team of 8 will be on the water with their guide for about two hours.
Expect a fun and friendly approach from our guides and to learn how to navigate and read the river. You'll go through small rapids, the 'Barre de St Jean' rapid, and you'll swim in the heart of the Gorges du Verdon.
12.30pm: Arrive at 'Siphon Beach' for our picnic lunch.
Lunch includes salad, a buffet of local food or a baguette sandwich, dessert, local wine/drinks = 15€/person. Or you can bring your own food if you prefer.
2pm: Back on the (somewhat more turbulent) water.
The trip ends at the start of the Couloir Samson. Arriving here, at Point Sublime, is just fabulous!
You are surrounded by impressive cliffs, and you might even come across some Griffon Vultures.
The last section is also quite exciting as you have to pass the 'Solitaire': a fast, Class 4 rapid that is sure to make a lasting impression; this takes you up to around 4.30pm.
To get out of the Verdon canyon, there is a 10-minute walk along the Martel trail to get to the parking area. The raft also has to make its way back up, so the walk requires some energy… Then it's time for a little snack and for everyone to share their stories before heading back to Castellane.
The schedules are only examples and can be adjusted on special request.
For all RAFTING activities starting from Castellane, the EDF dams MUST be open.

Otherwise, we use the reduced water flow to 'swim' through the Grand Canyon du Verdon. This is our famous AQUA-TREKKING activity!

In July and August, the dams normally open on Tuesdays and Fridays.

Apart from these two months, there are no set rules; it all depends on the rain and snowfall we've had over winter.

However, if the sun is out, a white-water activity is always possible somewhere (the Haut Verdon or the Gorges de Daluis in spring, Aqua-trekking, Canyoning...).

If you give us a ring we can go through all the possible options with you.
Localisation Rafting :
Rafting formula Whole-day-trip
You can use this map to locate and calculate your route by clicking on the marker. The estimated time by Google is to increase by 20%, which corresponds to our small mountain roads.
Veuillez patienter pendant le chargement de la carte...
Nos activités phares
Our most popular activities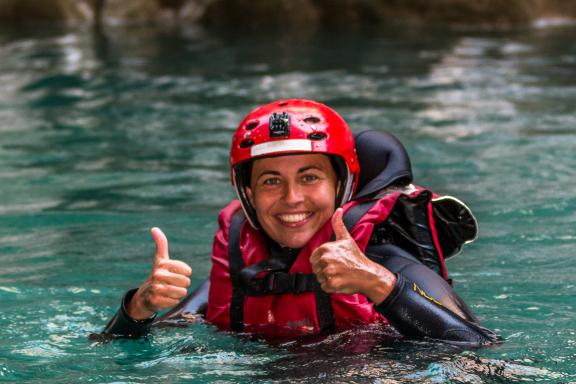 The AQUA TREKKING is the best way to explore the Grand Canyon. Aqua-trekking is the activity that you would not have necessarily thought a ...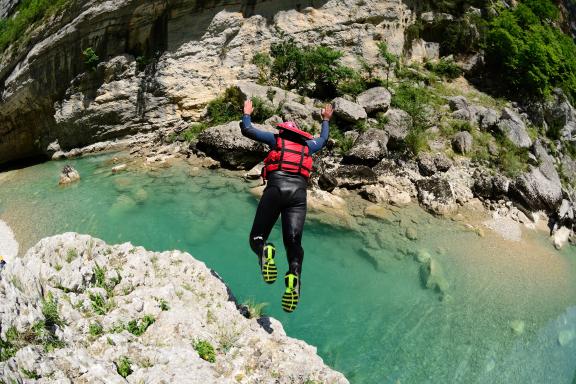 Prepare yourself for a once in a lifetime experience in a unique and altogether magical environment. Prepare yourself for a once-in-a-life ...